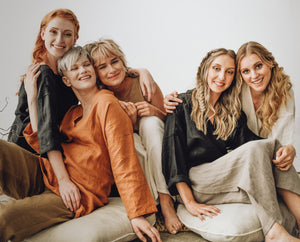 YOUR LUXURY SUSTAINABLE SALON IN VICTORIA, BC
At first glance, we're no different than your typical salon: abuzz with blow dryers and coffee-fueled conversation. But we like to do things a little differently: We slow down. We listen to our clients, we remember their kids' names like we do our friends', and we never double-book. We only source non-toxic hair care and recycle 95% of our waste. Essentially, we made the salon experience equal parts luxurious and sustainable, so you can have your cake and eat it, too. Welcome to Lavish
Our Services
Settle into your chair with a magazine in one hand and a freshly brewed coffee in the other—our treat. You're here to get pampered and beautified—which happens to be what we do best. So, lean back for that spa-worthy scalp massage, and let us do the rest.
Browse Our Services
Don't take our word for it
★★★★★

Lavish is a wonderful salon. The owner, Liz, truly goes above and beyond for clients. I have had product delivered to my house during covid and she has been so wonderful to communicate with me outside of opening hours to set up an appointment. I see Kelsey at Lavish and cannot recommend her enough. She is warm, friendly, and a fabulous stylist! She does a beautiful balayage and cut, and I am always happy with the results.
★★★★★

Lovely spot to treat yourself! Helen did such a great job cutting my stubbornly straight hair that I came back a week later for some highlights.
★★★★★

I came for the Loma Hair Care, and stayed for the amazing Olivia Buksa's Hair Care.

Olivia is an amazing, very talented, highly skilled and personable hair cutter. I love my hair cut days now.
★★★★★

Olivia is a perfectionist! Her consistency in achieving the perfect shade of blonde has made me a loyal client for over 4 years. When Olivia became IBE certified I made my appointment to get 18 inch extensions and I could not believe the transformation. I have my dream hair thanks to Olivia.
★★★★★

I've been coming to see Kaitlyn for years and she is absolutely the only person I trust with my hair! she's always so sweet to see and so knowledgeable about products I'm interested in, she's always wiling to help me out however I need and lavishes space is wonderful and relaxing, I couldn't recommend Kaitlyn and lavish enough if you're looking for a new stylist!
★★★★★

Beautiful atmosphere and friendly staff. All in all, a great salon!


I've been going to Kaitlyn to get my highlights for over a year now. She has been my hair goddess! Without a doubt I can count on her for amazing results and awesome service.
OUR SUSTAINABILITY
Non-Toxic Hair Care
As stylists, we don't want to be breathing in toxic chemicals day in and day out—and we know you're too smart for that, too. We source only non-toxic hair care, from Kevin Murphy's celebrity-coveted line to LOMA's organic collection, formulated in our neighbouring Washington state.
In-Salon
Recycling Program
As a Green Circle Salon member, we're reducing our waste by recycling and repurposing up to 95% of it. Those hair trimmings we sweep up between clients? They become sustainable plastics. Leftover colour? Clean water. Foils used for your balayage? Bicycle frames.
Obsessed with great hair since 2011
It's no secret we have a thing for great hair—but what you don't see are the endless hours it takes to get that good as a stylist. With extensive training, a penchant for people, and a lot of laughter, you've got the recipe for our Lavish family.